Your Interior Painting Experts: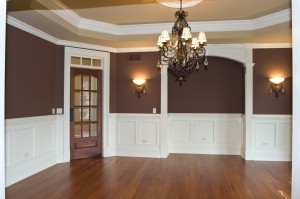 We pride ourselves on our workmanship as well as the products we use. Our professional painting crews follow a strict methodology that helps guarantee your beautiful new paint job will stay beautiful for years to come.
While in your home we stay busy, and do not interfere with your normal activities. We are polite, courteous and respectful, and we only use conversation that is suitable for anyone. We bring the right tools to get the job done and even though we cover your furniture and counters, we never use them as a tool shelf. We prepare your painted areas properly, sanding, caulking, and priming where needed before one drop of paint is applied. This insures long lasting integrity and beauty for years to come.
We keep our work areas clean and neat, removing trash each day, which keeps your home clean and makes us more efficient while promoting safety.

Let us paint your::

Bathrooms
Cabinets
Kitchens
Bedrooms
Family Rooms
Dens /Home offices
Stairs
Vaulted Ceilings
Handrails
Baseboards
Plaster Install & Repair
Windows & Doors
Metal Railings
Garage Walls & Floors