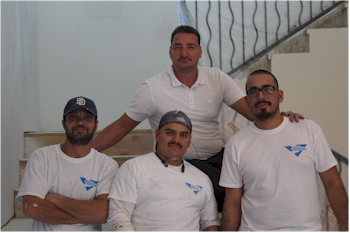 We're Ready To Paint For You:
As the leading Las Vegas painter, Discount Painting of Nevada provides a wide array of interior painting and exterior painting services for both residential painting and commercial painting projects. As any good painter knows, there are many ways to bring out the beauty of your living space. A fresh coat of paint can do wonders for a room or your home. If you are looking to liven up the atmosphere, a change of color(s) can make a world of difference. Our painters are creative and understand the nuisances of color palettes, space, volume, and natural lighting. All of these factors in the hands of a professional can result in a beautiful, functional, and comfortable environment.
When searching for a painter, quality must be of the utmost importance. Paint provides beauty and elegance, as well as protection from the elements. By painting your home, you can add value and make a great first impression…what realtors call 'Curb appeal' which is essential if you plan on selling your house. However, not every painter is dedicated to quality like Discount Painting. With a staff of experienced experts, our customers can rest assured that our company is the best painter in the state.
A paint job takes a lot of brainstorming. There are a few factors that go into making a decision. After all, you're altering the look and feel of your property. Discount Painting will work with you want to make sure you have all the options available to you made clear so that you are inspired when you make the final decision. We will offer any and all advice we can, but you will never meet a painter from our company that will force a customer to do something they are not comfortable with. It is Discount Painting's belief that the customer comes first. Our services are only the means the to the customer's end.
Once you contact us, we will set up an agreed upon time to visit you. At that time, we will answer any questions, and provide you with a written contract that outlines the timeline, the process, and the end product. Unlike many other Las Vegas painters, we always ask that the homeowner(s) be present at the time of the estimate so that any and all concerns can be addressed. We anticipate that you may have some questions and concerns. The interaction between you and the painter also allows our estimators to ask questions to clarify any concerns that they might have.
Please use the drop down above to learn more about the various interior painting, exterior painting and commercial painting projects that we specialize in. Also make sure to take a look at our gallery for examples of our work!